Fact:
No two pair of feet are the same.
Fact:
Your left foot and right foot are not the same size or width.
Fact:
Your feet swell and get bigger during the average work day. What fits in the morning will not necessarily fit
the same when you get off work.
Fact:
No two work boot brands are made the same
...from the same shoe lasts.
Fact:
We all want our work boots to fit PERFECTLY.
I know I do.
Fact:
The average person takes 8,000 to 10,000 steps a day, which adds up to about 1,500 miles over a year.
Fact:
The human foot contains 26 bones, 33 joints, 107 ligaments and 19 muscles.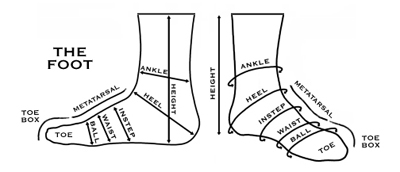 Fact:
Finding perfect fitting work boots is a tricky thing and nearly impossible to absolutely guarantee...no matter how good a "shoe salesman. Always consider these qualities for making a smart work boot purchase (in order):
MADE-IN-USA > FIT > COMFORT > SAFETY FEATURES > CRAFTSMANSHIP > PRICE

We offer several suggestions to help you find the perfect fit.