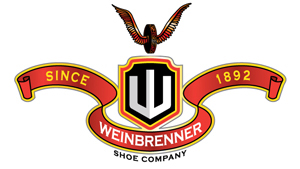 Incorporated 1892 - Milwaukee, Wisconsin, USA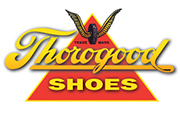 Manufacturer of Thorogood™ Occupational Safety Footwear.
The leader in work, uniform and fire boot innovation, quality craftsmanship and comfort.

=============================================================



Peter W

einbrenner, a recent German immigrant, begins repairing boots and shoes from
a small cobbler's shop in Milwaukee, Wisconsin.

Peter's son, Albert, follows his father's trade, starting at age 13 as an apprentice cobbler
repairing outsoles.

Albert Weinbrenner (age 27), starts a business with partner Joseph Pfeifer repairing and selling boots and shoes out of a storefront at 140 West Water Street in Milwaukee. - they called their new cobblery "Weinbrenner and Pfeifer."

Their specialty - boots and shoes for the "jobbing" trades - to use modern terms, they specialized in work boots.

After eight years in the repair and sales business the partners decide to go into manufacturing and, in 1900, they purchased the Knoll Shoe Company for $1,500. The new company is named:

Albert H. Weinbrenner Company

Boot production reaches 60 pairs per day. Sales continue to grow as workers around Milwaukee learn about the quality of the boots.

========================


National distribution introduces Weinbrenner footwear to workers across America. When boot
production reaches 2,500 pairs per day, Weinbrenner moves to a larger manufacturing facility.

[The Red Wing Shoe Company is established.
in Minnesota.]

Weinbrenner's new factory is completed providing nearly 158,000 square feet of space. An innovative addition is a self-sustaining power plant in the basement - lowering costs for production.

The exterior design and interior features
of the new factory were considered very avant
garde and advanced for the time, so much so
that it was featured in many national architectual magazines.

Weinbrenner employees strike; presumably for
better working conditions and shorter hours.










========================


First product sales catalog printed.

Production grows to 20,000 pairs per day. 82 cutting machines leads the nation in the number of
leather clippers in any one factory. Footwear now include women's and children's dress shoes.


"Job-fitted" design is introduced in recognition of the diverse needs of the different work trades.
Work boot styles begin to appear specifically designed for miners, oil riggers, lineman, foundry workers and steelworkers.

During World War I Weinbrenner becomes a major contributor to the Army, supplying military boots
"job-fitted" for the infantry.

The Thorogood brand of work boots is introduced and enjoys wide popularity for creating specialized boots for many trades.

The average pair of work boots costs $4/pair (wholesale); probably between $7 - 8/pair at shoe stores.


========================




Weinbrenner Shoe Company announces the
planned construction of a new manufacturing plant
in Marshfield, Wisconsin, with a capicity to make
3-4,000 pairs of work shoes daily.

The Marshfield plant is still in operation and helps
produce the welted style footwear that is popular among work trades around the world.
New factory in Merrill, Wisconsin opens. (It still operates today and is the current headquarters.)


New factory in Antigo, Wisconsin opens.

New factory in Antigo, Wisconsin opens.



All production during World War II is dedicated to the national war effort. To this day Weinbrenner
still manufacturers military "issue" boots for the United States Armed Forces.

Weinbrenner introduces the Neo-Cord outsole - designed to protect workers from the harms of oil,
sulfuric and lactic acids.


Weinbrenner Shoe Company celebrates 50 years
in business.

In a 1942 interview Albert Weinbrenner states:

"The biggest thrill of my life was the end of that
first year of business when I counted up a profit
of $11,000. Never in all my years snce have
I felt richer."


Weinbrenner introduces the first safety toe work boot - influenced by designs required for the military during World War II. Military styles produced during the war included everything between combat boots and dress shoes.


========================


Weinbrenner's manufacturing plants are organized by International Boot and Shoe Workers Union.
The union will prove to become an integral partner in the company's future success. To this day, the working relationship between corporate and manufacturing is strong and focused squarely focused on "making great work boots!" Locals #688 and #717 of the United Food & Commercial Workers International Union, AFL-CIO, CLC currently represent Weinbrenner's workers.


New toe/metatarsal protection technology patent rewarded to Weinbrenner:

US Patent #2,392,867.


Albert H. Weinbrenner, founder of the Weinbrenner Shoe Company, passes away at age 84


Boot style #633 is introduced as a premium job-fitted roofer boot with lace-to-toe secure-fit contruction.
This boot will set the standard and with a few technological advances through the years will remain in Weinbrenner's product line...up through today - style #633-1.


Weinbrenner introduces the WorkOne brand, a new product line of highly specialized industrial work
boots sold directly to companies with specific boot saefty needs.


New metatarsal protection technology patent rewarded to Weinbrenner:

US Patent #2,833,058.


New plastic shoe heel technology patent rewarded to Weinbrenner:

US Patent #2,917,841.


Weinbrenner introduces the

Hike 'n Camp - The Official Boy Scout Boot. The boot featured a unique wedge sole (no heel) and a reinforced moccasin style stitching. This boot style will become Weinbrenner's all-time best selling boot style.
47 years later, this boot is considered widely as the signature boot for the construction industry. Quality construction and comfort, plus special oil-tanned leather, hightlight the 14 variations now available under the American Heritage label. The original 1964 design is still available - style #814-4201.

========================



Weinbrenner celebrates 100 years of quality craftsmanship and innovation.


Weinbrenner introduces the HellFire brand, a new product line of highly specialized fire fighting boots.


Weinbrenner introduces the Dual Density Polyurethane outsole designed to secifically address
the needs for 1) working on concrete surfaces for 10-12 hours a day and 2) jobs that require climbing.
The new outsole's shock absorbing dual composition perfectly compliments the slip resisting and flexing qualities of this EXCLUSIVE Weinbrenner outsole. This outsole in Made In USA.

Learn More
Weinbrenner introduces an exclusive fire fighting outsole designed in cooperation with Vibram®
The new outsole's unique chiseled lug design and heat resisting composition greatly improve traction for fire fighters in a variety of conditions. Miners also discover the value of the new design in their work environments, both above and below the ground. This outsole in Made In USA.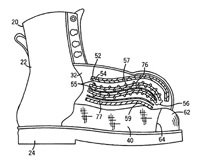 AeroMet™ metatarsal guard patent rewarded to Weinbrenner:

US Patent #6,631,569.

Weinbrenner introduces the SoftStreets™ outsole designed in partnership with
the United States Postal Service. The new outsole's unique lug design and material composition
is designed to provide safety, comfort and lightweight flexibility for the multiple work conditions
postal employees find themselves in - indoors and outdoors. This outsole in Made In USA.
This outsole is a CERTIFIED by the United States Postal Service.



I-Met™ metatarsal guard patent rewarded to Weinbrenner:

US Patent #7,305,776.


Weinbrenner introduces the Thorogood MaxWear™ Wedge outsole. The new outsole's design
follows in the footsteps of traditional wedge sole design BUT adds 20-30% longer life and
introduces, for the first time, dual density comfort construction. The MaxWear™ Wedge provides
the same safety and lightweight flexibility, plus characteristic slip resisiting qualities, for the multiple
work conditions that ironworkers, carpenters and millions of other construction workers demand
on the jobsite. This outsole is Made In USA.


Following the introduction of the MaxWear™ Wedge, Weinbrenner also introduced the same
improved performance characteristics (and familiar cream color) in a "wedge-inspired" outsole with a
90º heel and slightly more agressive, low-profile, lug pattern - the Thorogood Classic outsole.
This outsole is Made In USA.


Weinbrenner dramatically redesigns the Classic outsole in response to consumer demand.
The new design, with a true 90/90 heel and a deeper more agressive lug pattern, enjoys immediate
success. The outsole is applied to a variety of new work boots styles in both cream and black colored
versions. This outsole is Made In USA.


Weinbrenner is America's largest manufacturer of "Made In USA" footwear - over 125 styles - primarily focused on quality job-fitted work boots. Two factories in Wisconsin continue to serve the company; with
the Merrill operation as the headquarters. Bucking the trend of companies moving all or most of their
production out of the country, Weinbrenner remains dedicated to keeping a majority of its production
in the United States.

Weinbrenner continues its tradition of innovative design in the work boot industry and is widely
respected as a leader in quality and comfort - after 120 years it is one of the most trusted brands in the industry. Today, Weinbrenner makes 250 styles of occupational safety work and uniform boots.

To further demonstrate its committment, Weinbrenner has implemented a Quality Management System which conforms to the requirements of the International Standard ISO 9001 certification.



Walter Brown, President, TheBootPros LLC


Send Comment | Who We Are

=============================================================

Top of Page | Send Comment | Who We Are


TheBootPros LLC and its affiliates attempt to be as accurate as possible. However, TheBootPros LLC does not warrant
that product descriptions or other content of this site are accurate, complete, reliable, current, or error-free. If a product offered by
TheBootPros LLC itself is not as described upon delivery, your sole solution is to return the product in it's original new and unused
condition, in the original packaging, for an exchange or return per our terms and policies.
PLEASE CHECK THE PRODUCT AND PRODUCT BOX YOU RECEIVE FOR ACCURACY OF PRODUCT DESCRIPTION,
INCLUDING THE STYLE AND FEATURES YOU REQUESTED.
All rights reserved. ©2006-2017 TheBootPros LLC
Thorogood's logo, text, graphics and photo images are the property of Weinbrenner Shoe Company, Inc.
and are used with permission. Copyright ©2017.